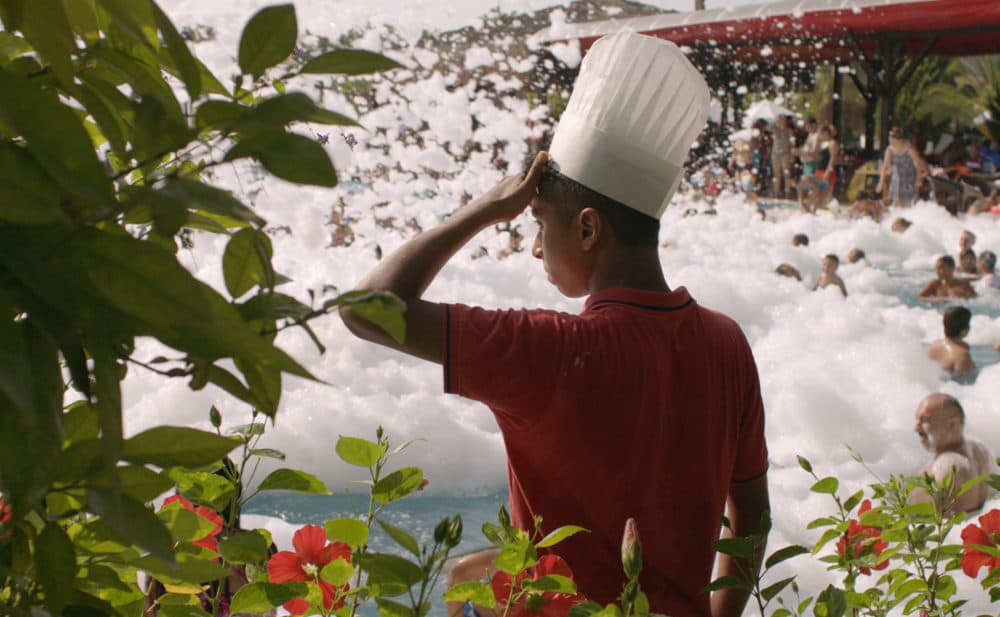 7 Greater Boston Film Festivals to Check Out This Spring
Relaxed mandates. Masks optional. With COVID-19 statistics plummeting, many of the region's spring film festivals will come together in person for the first time since 2019. When planning the 38th edition of Wicked Queer for the month of "Gaypril", for example , executive director Shawn Cotter said management wanted to "push to get back into theaters." Still, he adds, "I hope people are ready." COVID has taught film festivals a thing or two about contingency planning. While the Boston Underground Film Festival is taking place in person at the Brattle, the Boston Turkish Film Festival will remain remote. Several listed below, including Wicked Queer, maintain a mix of theatrical and streaming events.
Please note: We strongly recommend confirming attendance guidelines for individual venues prior to in-person events and double-checking timing and geographic scope related to streaming.
Boston Underground Film Festival
When: March 23-27
Or: Brattle Theater
Strong points: As New England's premier genre festival, BUFF promises "all killer, no filler" and to "keep things a little quirky in a town that desperately needs quirkiness." For just a little weird, watch the documentary "Freakscene: The Story of Dinosaur Jr." Take it up a notch with Gaspar Noé twice ("Vortex" and "Lux Æterna", the latter with Charlotte Gainsbourg, of course). Then let all the weirdos run wild, that is, the mutant cockroaches, with a 2K restoration of the 1988 New England infestation story "The Nest." Filming required something like 2,000 genetically modified insects. Witches abound this year ("Lux Æterna" and "You Won't be Alone" with Noomi Rapace) and girl gangs too ("Medusa" and "Honeycomb"). Although for originality, you might opt ​​for the Afro-futuristic musical "Neptune Frost."
Must know: Find a local filmmaker to follow among the 17 shorts screened in the Weird Local Film Fest showcase.
---
Salem Film Festival
When: March 24-April 3
Or: Stream online and in cinemas Salem, Peabody Essex Museum, The Cabot and Endicott College
Strong points: One of New England's best all-documentary showcases, Salem Film Fest encompasses local and global storytelling. This festival's in-person events and screenings (scheduled for March 24-27, with virtual March 28-April 3) mark a return to Salem Cinema for the first time since 2019. The independent cinema in the heart of Salem has closed its doors before the pandemic and reopened to new owners in June 2020. As for features, "One Pint at a Time" examines the role of black-owned breweries in the craft beer movement while "My So- Called Selfish Life" tackles the stigma of saying no to motherhood. "Fiddler's Journey to the Big Screen" commemorates the 50th anniversary of the play-turned-movie, which has garnered attention for its ties to the current war in Ukraine, and a wide range of tracks take up themes of water, ice and the impact of climate change ("River", "Hell or Clean Water", "Exposure", "Last of the Right Whales" and others). The program includes short films as well as showcases of work by Massachusetts college students and high school students.
Must know: The only film festival where you can watch a terrific documentary, get a set of custom fangs, pay homage to the satanic temple, and snack at one of the best bakeries on the North Shore all in one afternoon. (Yes, I'm partial, practically local, and didn't even mention the beer. Make it a Salem-specific beer.)
---
Boston Israeli Film Festival
When: March 24-30
Or: Stream online and at West Newton Cinema and Coolidge Corner Theater
Strong points: Earlier this year, Boston Jewish Film, which oversees the festival, named filmmaker Lisa Gossels as its new artistic director. Gossels will host a handful of in-person and virtual events as part of Israel's fourth annual showcase of contemporary film and television. The festival opens with "Dead Sea Guardians" in which three environmental activists (an Israeli, a Jordanian and a Palestinian) plan an ambitious swim to alert others to the region's impending ecological disaster. In the documentary "This Orchestra of Broken Instruments", 100 very different musicians unite for a performance in Jerusalem. Tom Cohen, credited with inventing a new musical language and one of the film's subjects, will join the film's director Yuval Hameiri for a live chat with Gossels. In the closing night drama "Let it Be Morning" (in person at the Coolidge with director Eran Kolirin), a village bends under the pressure of an unexpected military lockdown.
Must know: Water levels in the Dead Sea have been declining since the 1960s, and experts began tracking down dangerous sinkholes in the 1980s. Last October, photographer Spencer Tunick staged a photo op where hundreds of people turned out held naked along the Dead Sea to protest its degradation, a follow-up to a photoshoot 10 years prior.
---
Belmont World Film International Film Series
When: March 25-May 16
Or: Streaming online and in Watertown's Majestic 7 and West Newton cinemas
Strong points: After taking off in 2020, this series is celebrating its 20th year with a mix of in-person and streaming titles. The French language appears in almost all of this year's eight selections, many of which debuted in Cannes or Venice in 2021, such as "Zero F**ks Given", the film, which has nothing to do with Kevin Hart. Rather, it's about a young air hostess (Adèle Exarchopoulos) stuck overperforming with no attachment to results. It recalls the mad absurdity of "Palm Springs", the capitalist trappings of "Sorry to Bother You" with the poignant backlash of "Fleabag". In "Bootleg", a woman from northern Quebec returns home in a tense dispute over the sale of alcohol. Even the Polish film "Silent Land" is inspired by France, where a "perfect" couple gets their reward with echoes of "Force". Major. A moderated Zoom discussion follows all films.
Must know: For two consecutive years, half of the films in this series have been directed by women; last year, three of the eight were submitted by their respective countries for the Oscars.
---
Queer Nasty Film Festival
When: April 7-17
Or: Online and at Brattle Theatre, Emerson's Paramount Center and ICA Boston
Strong points: Boston's preeminent showcase of films about the lesbian, gay, bisexual, trans, queer experience (and more) announces its full slate in mid-March. But executive director Shawn Cotter offered a few teasers, including two Sundance tracks ("Framing Agnes" and "Sirens"), a filmed avant-garde opera ("ORFEAS2021," about Greece's first gay prime minister, or "cyberpunk queer hackers against rainbow gay-capitalist norms"), and the Icelandic buddy movie "Secret Cop." This year, Cotter discovered an abundance of "trans stories inside and out." outside of the community as well as coming-of-age films". "My Emptiness and I" sums up the two themes and director Adrián Silvestre will be present in person. "The times when we should be begging for leftover representation are gone," says Cotter, who remains optimistic about the rise of "women, BIPOC, trans and queer people behind the scenes and on camera." Their images and stories "should inform the culture for years to come." .
Must know: Cotter lists "Funeral Parade of Roses" as his favorite LGBTQ+ movie.
https://www.youtube.com/watch?v=UW0LC7Gd4Vw
---
Boston Turkish Film Festival
When: April 15-28
Or: Online broadcast
Strong points: The winners of the documentary and short film competition of the Turkish festival held in December play this 21st edition as well as new feature films. At least three of the competition are must-sees: the surprisingly poignant observational documentary "All In," about two young men who take seasonal work at a Turkish resort that hosts many Russian guests, and two fictional shorts who are also walking towards the cliff of adulthood, but with women in mind. In 'Climate Change' a woman absorbs the cultural change of moving to London for higher education, and in 'The Great Istanbul Depression' two sisters languish in indecision despite their father wanting them to move and move on with their lives. . Festival director Erkut Gömülü notes that this year, uniquely, "all feature films are debut films from a new generation of filmmakers." He points to "Patrida," a story about the hardships of forced immigration through the prism of a father-daughter relationship. Co-directors Ayça Damgaci and Tumay Goktepe will participate in a Zoom Q&A.
Must know: The titles mentioned make resonant companions to "The Worst Person in the World," one of the best movies of 2021 (and a contender for two Oscars), another compelling approach to navigating the uncertainties of young adulthood.
---
IFFBoston
When: April 27-May 4
Or: The Somerville Theater, Brattle Theater and other locations to be determined
Strong points: Scheduled to take place in real life for the first time since 2019, the full announcement of accepted films won't go live until April. Until then, filmmakers from across the United States, and some Bostonians, are patiently awaiting the green light from the region's favorite independent film festival. Meanwhile, a contingent of superfans are wondering: Who will get the Somerville big screen in theater one? What madness or joy will I see with a full house downstairs? Will anyone recognize me after two years? Do I want to be recognized? (Ask a friend.) And, of course: What should I wear?
Must know: It takes more than 200 volunteers to animate this festival in person.
---
Also display:
"The Distant Barking of Dogs": A documentary about a child experiencing violent conflict in Donbass is being shown via Salem Film Fest until March 23. (All proceeds go to Voices of Children, a non-profit organization that supports Ukrainian children.)
The women take the spool: Women's History Month screenings at Boston College, MIT, Lesley University, Northeastern University through March 29.
Films by Flora Gomes, Ramell Ross, Dominga Sotomayor: At the Harvard Film Archive from March 24 to April 4.
Bright Lights Film Series: In person at Emerson College's Bright Family Screening Room, Thursday evenings through April 21.
The Docyard: Documentaries at the Brattle Theater on Monday evenings until April 25.
Face/Off: Travolta/Cage: This repertoire series at the Somerville Theater runs from Tuesday evening through May 3.
Projecting Connections: Sino-American Experiences: At ArtsEmerson until June 17.
Shared Stories: Community, Connection and Conversation Through Film: At ArtsEmerson until June 24.