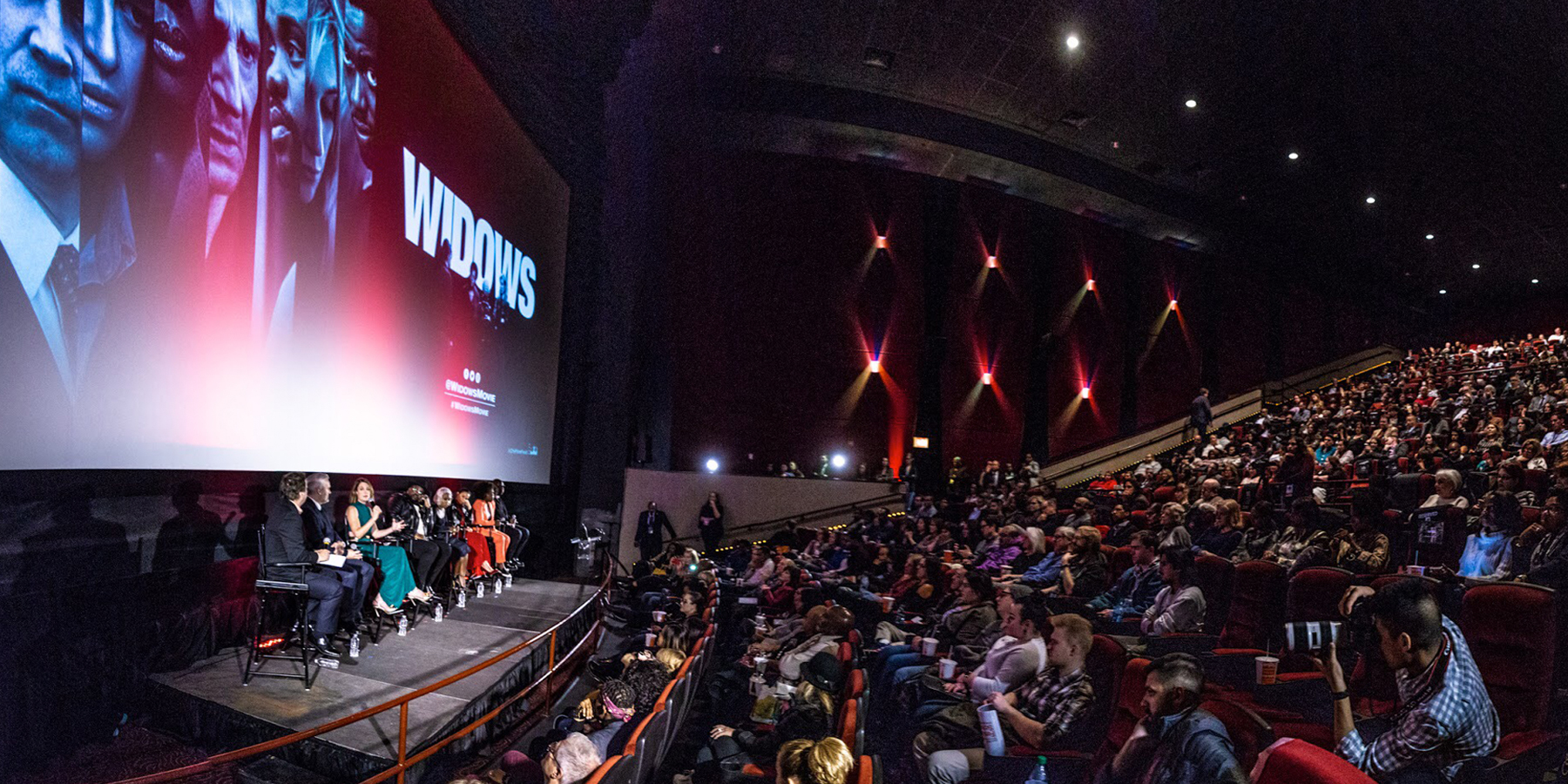 Chicago Film Festivals and Events
Chicago has a long and illustrious cinematic history: Charlie Chaplin at the Essanay studios in 1915, classics from the 80s like Ferris Bueller's day off and The Blue Brothers, modern-day successes like The black Knight. It is therefore logical that our city is home to remarkable and revolutionary film festivals throughout the year. Here is just a sampling of the best Chicago film festivals.
Flagship event
Chicago International Film Festival
Now in its 57th year, it's North America oldest competitive film festival. The famous festival features over 150 films from over 50 countries, questions and answers from filmmakers, red carpet galas, tributes, panels and, of course, an awards ceremony.
Annual film festivals and events
First Stranger Than Fiction Documentaries
This annual showcase celebrates the art of documentary, showcasing Chicago's beginnings of new documentary releases. Many different nations are portrayed in the films, offering perspectives from Israel to Japan and from Mexico to Qatar.
Iran Film Festival
This Iranian Film Festival presents Chicago premieres of new films from Iran and the Iranian diaspora, as directors continue to overcome challenges and sidestep taboos to present their work to the world.
Chicago Irish Film Festival
The Chicago Irish Film Festival is a four-day event that presents a selection of short films, narrative feature films and documentaries directed by Irish filmmakers and Irish-born filmmakers.
In / Motion International Dance Film Festival
The In / Motion International Dance Film Festival connects Chicago's vibrant dance and film communities with national and international artists through screenings of dance short and feature films, Q&A, workshops, performances, dance lessons, panel discussions and networking events.
One Earth Film Festival
One Earth Film Festival uses compelling environmental films and engaging programming to convey climate change, sustainability and the power of people.
Chicago Feminist Film Festival
The Chicago Feminist Film Festival presents independent films – mostly short films – spanning documentary, fictional and experimental genres, and aims to address issues of gender, sexuality, race and other forms of inequality.
Chicago European Union Film Festival
The largest showcase in North America European Union Cinema presents over 60 premieres from 28 EU countries and features filmmaker appearances, talks and special events.
Chicago JCC Jewish Film Festival
The Chicago JCC Jewish Film Festival is an open-ended approach to diversity and strong Jewish contributions to world culture. The festival presents films that resonate in all age groups for families, young adults and the elderly.
Onion City Experimental Festival + Video
City of onion is one of the few international festivals exclusively devoted to experimental film and video. Onion City's mission is to provide local audiences with the opportunity to view a wide range of contemporary experimental works that represent different styles, forms and nationalities.
Chicago Comedy Film Festival
The Chicago Comedy Film Festival is committed to bringing independent comedy to the screen, with the goal of supporting comedy cinema as a vital and influential art form.
Silent Film Sound Festival
With newly composed scores performed live for modern silent movies from around the world, this one-night-only event is not to be missed.
Chicago Latin Film Festival
The Chicago Latin Film Festival is considered the largest and most comprehensive Latin film festival in the United States, showing more than 100 films of cultural and social significance from Latin America, Spain, Portugal and the United States.
The annual showcase of Asian Americans
Directory Asian American storefront is a unique festival that presents the diverse voices of Asian American filmmakers through narrative feature films, documentaries and short films.
CinéJeunesse Festival
The annual event of the Chicago International Film Festival CinéJeunesse Festivalpresents short films made by filmmakers aged 22 and under from around the world. CineYouth strives to nurture the talent of young artists and provide them with the opportunity to tell their stories, network with their peers and be recognized for their creativity.
Chicago Palestinian Film Festival
This Annual festival represents the spirit and mood of contemporary Palestinian life. Now in its 19th year, it is the oldest Palestinian film festival of its kind in the world.
Chicago Critics' Film Festival
The Chicago Critics' Film Festival allows moviegoers to see some of the most talked about films of the year – before they make their commercial debut. The program includes recent festival favorites and undistributed works from a wide variety of filmmakers, ranging from award winners to talented newcomers.
Chicagoland shorts
Chicagoland shorts is Full Spectrum Features' annual touring short film series that celebrates the immensity of the Chicagoland experience and provides an outlet for those cinematic voices that often go unheard within the independent film community.
Millennium Park Summer Film Series
The Millennium Park Summer Film Series is a local favorite, with outdoor screenings of Chicago classics and new hits. Bring a blanket, picnic basket and enjoy a movie under the stars.
Chicago Underground Film Festival
The Chicago Underground Film Festival, the oldest underground film festival in the world, exists to present the decidedly independent filmmaker. Expect a selection of documentary, experimental and cutting-edge narrative films and videos.
Black Harvest Film Festival
The Black Harvest Film Festival is a dynamic annual showcase of new work from the African Diaspora, telling stories, raising questions and addressing issues related to the African American, Black and African Diaspora experience.
Blue Whiskey Independent Film Festival
The Blue Whiskey Independent Film Festival seeks daring and innovative filmmakers who use elements of story in new and exciting ways, presenting character-driven independent cinema fueled by the filmmaker's passion for art without much studio support.
ReelAbilities Disability Film Festival – Chicago
ReelAbilities Film Festival is the country's largest film festival dedicated to sharing the life, stories and art of people with disabilities.
Chicago's local film showcase on screen
The Chicago Local On-Screen Film Showcase gives local filmmakers the opportunity to share their work with audiences across the city through free public outdoor screenings in local parks. Previous demo films have included Chicago premieres and world premieres, as well as favorites from the festival circuit.
Mastodon film festival
This week film event celebrates science fiction and fantastic short films from around the world. The festival is presented by the Otherworld Theater Company of Chicago, whose mission is to further explore and promote the sci-fi / fantasy genre.
Chicago South Asian Film Festival
The Chicago South Asian Film Festival is one of the biggest multicultural events in the heart of the country and supports films from Afghanistan, Bangladesh, Bhutan, India, Iran, Maldives, Nepal, Pakistan, Sri Lanka and Tibet .
Shocked: Chicago's LGBTQ + International Film Festival
WhirlpoolThe mission of is to fight against false representations and stereotypes of LGBTQ + people in the mainstream media. The festival, the second oldest film festival of its kind in the world, features a range of genres.
Chicago International Social Change Film Festival
Chicago International Social Change Film Festival presents films that document injustices and inspire audiences to create change.
Asian pop-up cinema
Asian pop-up cinema (亞洲 躍動 電影 展) is a biannual film festival – each spring and fall – presenting a series of specially selected films in their original languages ​​with English subtitles.
(In) Justice for All Film Festival
The (In) Justice for all film festival seeks to use the power of film to help end the epidemic of mass incarceration. In addition to showing films, the festival organizes events to increase understanding of mental health issues, addiction and abuse, severe juvenile sentences, the war on drugs, and more.
Chicago Israeli Film Festival
The mission of Chicago Israeli Film Festival is to share an appreciation of internationally recognized Israeli film achievements and cultural diversity with the community at large, and to serve as a catalyst for multicultural dialogue.
Chicago International Children's Film Festival
Each year the Chicago International Children's Film Festival presents the more than 250 best short and feature films for children and young people from more than 45 countries. Discover the joy and power of the film through preview screenings, hands-on workshops and discussions with filmmakers.
Chi-Town Multicultural Film Festival
The Chi-Town Multicultural Film Festival provides nationwide exposure for stimulating and envelope repelling films. It focuses on stories, people and passions that are too often unexplored in mainstream cinema.
Mostra IX: Brazilian Film Series Chicago
MOSTRA (which means "to exhibit" in Portuguese) is the largest Brazilian film festival in the Midwest. The objective of the event is to foster conversations on social issues between academics, filmmakers and students through Brazilian films with a social conscience.
Chicago Polish Film Festival
It is the world's largest showcase of Polish cinema and the largest annual Polish cultural event outside of Poland.
Chicago International Short Film Festival
Chicago International Short Film Festival was created and designed to celebrate the art of the short film, with various thematic categories.
Ongoing film festivals and events
Midwest Independent Film Festival
It is the only film festival in the country entirely dedicated to Midwestern filmmakers, presenting audiences with regionally produced independent cinema. This film festival all year round proudly sits at the center of the independent movie scene in Chicago and the Midwest.
Pride film festival
Monthly LGBTQ + independent film festival in one of the largest lesbian, gay, bisexual and transgender communities in the United States. Consult the complete list of screenings.