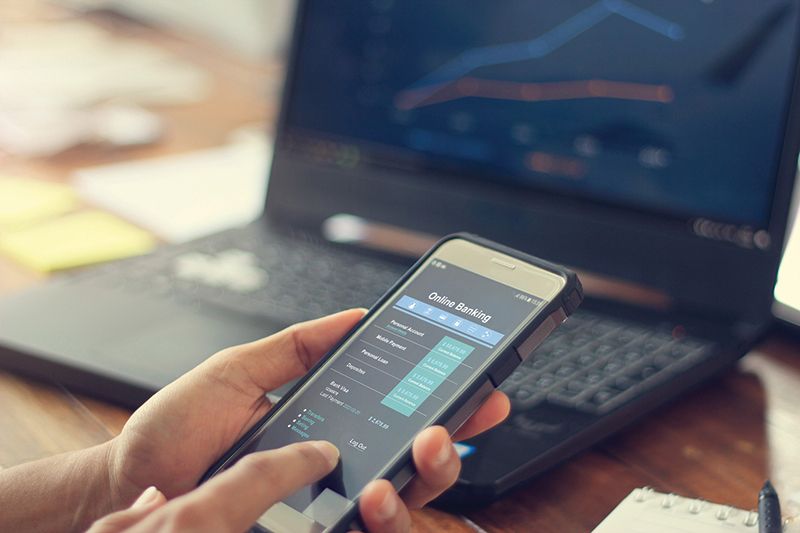 New app benefits black members
According to research by RiskIQ, there are at least 8.9 million mobile apps available for download for the more than five billion smartphone users worldwide. And when it comes to mobile banking apps, minorities are much more likely to use them than white people.
Multiple surveys over the past few years have found that 50% of blacks have used a mobile banking app in the past 12 months, while only 37% of whites have used one. Nearly 70% of black mobile phone users download and update apps on a monthly basis. The same survey found that 60% of white users do the same.
Regular surveys by the Pew Research Center since 2010 have consistently shown that Blacks and Latinos use their smartphones for banking more than any other race or ethnicity. The Federal Reserve Board backed up these findings with its own reports which found that "a disproportionately high rate" of blacks and Latinos are mobile banking users.
While adoption and usage rates of mobile banking apps are high among minorities, Federal Reserve data showed in 2019 that 14% of black households and 12% of Latinos in the United States were not banked. For white households, that number was 2.5%.
The Federal Reserve survey also found that about 34% of the total membership of credit unions are minorities. Of this number, only 17% are black.
So, some questions arise from the consistent research and survey findings: Are credit unions focusing on these facts about minorities within the mobile banking population? And who do credit unions market their mobile banking apps to?
In April, the $1.7 billion community credit union Unitus in Portland, Oregon, announced that it had launched a new project that not only tries to focus on the black user of mobile banking, but aims to grow and better serve Black members and potential members with a new mobile app it is building through a partnership involving a minority-owned fintech provider and a local nonprofit.
Unitus Assistant Vice President of Strategic Partnerships Megan Snyder explained that the credit union has committed money and resources to get this project off the ground, as well as a plan to ensure it is sustainable for years to come.
"We know the data tells us that our black community here in Oregon and nationally is one of the most underserved and underbanked communities," she said. "And as a financial institution and community partner, this data point is not acceptable. So we raised our hands to say, "We want to change that! and we used Urban League feedback to do this.
Together with the Urban League of Portland, Unitus announced its partnership with FTSI, a minority-owned company that is the largest independent provider of digital solutions and custom branches. Mobile app development by FTSI supports the Financial Empowerment Collaborative (FEC), which is a new pilot program that aims to foster financial empowerment for the Black community in Portland and provides strong pathways for participants on their journey. towards financial and real estate stability and wealth creation.
Funding for the development of the mobile app comes from a $50,000 grant Unitus received from NCUA's Community Development Revolving Funds program, which provides funds to extend reach to underserved communities while improving digital services and security.
Unitus combined the $50,000 grant into its $250,000 pledge to fund the $300,000 project. According to Snyder, this money is only for building and launching the app. More money will go towards funding app updates and new add-ons in the future.
As Unitus leads the effort to launch the new mobile app, it approaches the project with many local partners and credit unions in the region.
Unitus has partnered with the FEC pilot program, in conjunction with the Urban League of Portland, to provide financial products, services and educational materials to black people in Oregon. Advantis Credit Union, based in Clackamas, Oregon ($2 billion in assets, 85,672 members), Consolidated Community Credit Union, based in Portland ($487 million in assets, 20,499 members), Point West Credit Union, Portland-based ($113 million in assets, 8,993 members), Beaverton, Oregon-based Rivermark Community Credit Union ($1.3 billion in assets, 88,292 members) and the Northwest Credit Union Foundation are all partners of the project.
As Snyder said, the unbanked often use non-traditional methods to access their money, including cashing checks for a fee at a retailer or using payday loans. The new mobile app introduces financial services to Black people in Oregon, connecting them to the credit union that best suits their needs. This inclusive process is designed to foster financial and housing stability while creating and maintaining generational wealth.
"We wanted to find a way to effectively meet community members where they were, when they needed to," Snyder said. "Working collaboratively – five credit unions support Urban League – we have found that having a solution that is effective for the customer, friendly, non-intimidating [to be valuable], to the right? Accessing a credit union's website or trying to navigate financial services can be quite difficult. So how can we effectively communicate with them and meet their needs to help them on their journey to financial well-being? »
Urban League Housing Programs Director Denetta Antoinette Monk said the partnership grew out of discussions among Portland-area credit unions keen to find opportunities to create tangible positive community impact in the wake of the racial justice protests that rocked the city in 2020.
"Portland Urban League is thrilled to be part of a partnership with local credit unions to empower and increase financial literacy and resources in our community," said Antoinette Monk. "Launching a collaboration on financial empowerment is a strategic step toward fulfilling Urban League's mission to empower African Americans and others to achieve gender equality. education, employment, health, economic security and quality of life."
Snyder said after discussions with local partners about the tools and educational needs available to help break the cycle of habits that harm and create barriers to financial well-being, the mobile app seemed like the best way to combine all of these into one.
Snyder said, "We could do so much more for this community, but once you added this variable, we knew a tool to help support it was going to be important. But more than that, we knew what the Urban League was asking for, what their customers' needs were, [we] had a variety [of options]. It wasn't just financial services. It included education, resources, connection and financial coaching. And that led us to say, "Where can we provide one-stop service? So those discussions really started from the start of 2021. And when the credit unions came together to meet with the Urban League and heard their needs, that's when we really found out that the idea of an application would be really a good thing.
According to Snyder, the app has been mapped and the credit union should soon see some of its first designs. She said there are a handful of Unitus staff working on this project and she couldn't be prouder of the credit union team and management team, who have put their all into support to make this application a reality.
"It's very exciting! I think it relates to our culture and our commitment [to DEI]. I think it takes a lot of courage and leadership to stay true to that commitment, because other things get in the way, don't they? You have to balance the day-to-day work. You need to balance the needs of critical metrics. So I would say it took our leaders to have courage and be willing to invest both time and financial support in something new," Snyder said.
The app will be available on Apple and Android devices and is expected to go live in August 2022.
"It's something that's a passion project of mine, but I think is really important," Snyder added.