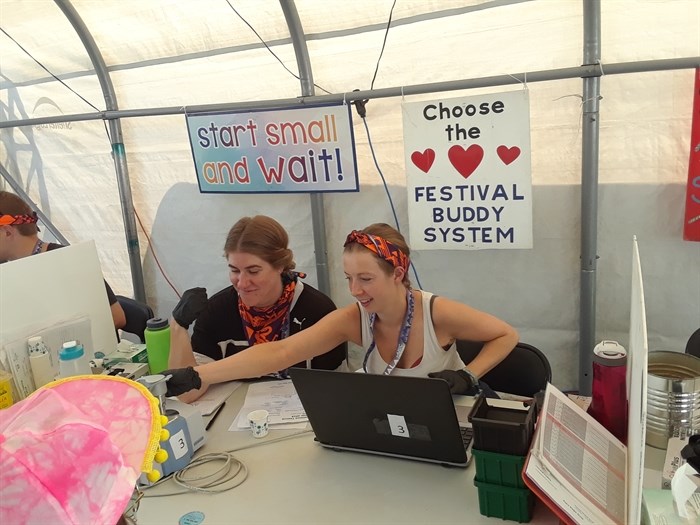 Shambhala beat Canada in drug checking at music festivals | infonews
May 29, 2022 – 8:40 a.m.
As the summer season marks the return of concerts and events to the area, venues are taking notes on a West Kootenay music festival that has taken a different approach to deterring overdoses for nearly 20 years.
The Shambhala Music Festival is set to return July 22-25 after two years of cancellations due to the pandemic. Festival organizers have worked with AIDS Network Kootenay Outreach and Support Society to provide harm reduction services to drug users since 2004.
Chloe Sage is the Drug Control Project Manager for Community Based Society and Harm Reduction Coordinator with Interior Health. From the rave community itself, she recalls how small and controversial Shambhala's drug-checking service was in its early days.
There wasn't even a sign indicating what the nearby society was, she said. It spread by word of mouth and two people providing the checks feared they would be arrested. At the time, it was one of many local drug control initiatives trying to get off the ground.
"It took a long time to find the courage…the festival was really worried about what it would be like if we allowed and encouraged drug use and that's not what it's about , it's about responding to the risks that exist." Sage said. Some festivals have attempted to set up drug screening services, but companies have threatened to cut off their insurance.

READ MORE: Scaling Up BC's Drug Control Programs to Save Lives: Focusing on Substance Use
"We were the only ones doing this at festivals in Canada for a very long time," Sage said.
The initiative was successful due to two factors: the event takes place on private land so they can make their own decisions and one of the festival founders helped reach out to the community to establish harm reduction, she said.
Since the start of the opioid crisis in 2016, more attention has been paid to Shambhala's approach, which includes more than just drug checking.
A place for those who want to stay sober throughout the festival gets bigger every year and there is a safe space where women and members of the LGBTQ+ community can find community. A place called The Sanctuary offers ravers a place to relax if they have a bad trip, and social workers roam throughout the festival promoting safe sexual consent.
The festival's guide to drug checking is used around the world, according to the festival's most recent Harm Reduction video.
"I think it's reversed," Sage said, adding that the province now recommends festivals have harm reduction services, including drug checking, on site. It is also much easier for festivals to obtain an exemption from the federal Controlled Drugs and Substances Act to operate a supervised consumption site.
Video credit: Shambhala Music Festival
Risk reduction and sanctuary
An on-site aid station is likened to a "field hospital," said Sage, who has established protocols that are copied across the country, especially when responding to overdoses of GHB, a party drug.
The community-based company has 70 people on site and tests more than 3,000 substances each year. This number continues to grow. Sage noted that they see a 25% increase in their service every year. She estimates there are around 18,000 attendees with thousands of workers providing support services to the festival.
Hospital transfers have declined each year, she said. Since its inception in 1998, one overdose death was reported in 2012 at the festival.
Historically, they've also seen fewer tainted drugs, although things are on hold this year with COVID-19. The pandemic has affected every aspect of the illicit drug market, Sage said.
The main impact of the festival across the country has been to advance harm reduction policies, she said.
"I don't think we came up with the idea and everyone followed us, I think we helped support these groups that are really trying (to implement these services)," she said. declared. "That also happens, not just at festivals."
Last weekend, Sage participated in a group that plans to provide a mobile medication verification site in Montreal. Drug control sites have been set up across the country, with the first being located in the West Kootenays in 2015.
This year, the outreach society is also providing drug control services to Bass Coast, Merritt for the third time.
"There are a lot of new people using the service, that's one of the successes we're seeing. Also, people queuing for two hours shows that this is a service people need," she said. The outreach society team is also drawn from the community and understands the needs of festival-goers.
"Festivals are preparing in terms of harm reduction," she said.
For harm reduction efforts to be effective, there needs to be collaboration between event organizers, public health, service providers and police, said UBC researcher Adam Lund, an emergency physician who is interested in the medicine of mass gatherings and special events.
At Big White's AltiTunes Music Fest in April, they conducted on-site drug testing, senior vice president Michael Ballingall said in a previous interview with iNFOnews.

READ MORE: Volunteers tested drugs for the first time at the Big White music festival
"Harm reduction has a bit of a core culture. There is a very strong and important peer-to-peer culture associated with it and therefore…this confidential and private peer-to-peer culture makes it difficult to collect data to do research, especially in the context where there are legal overtones," says Lund.
"Without the alignment of all the right authorities, you could theoretically find yourself in possession, even briefly, of an illegal substance…there could be consequences for the people providing this service," he said . "We would hate for anyone to suffer the consequences of good intention around a health intervention."
"In the context of the overdose and the fentanyl and opioid crisis that we are seeing, there has been a bit of a shift in the tides. I think some of the stakeholders who have been very reluctant to have these conversations in the past are more open to this because I think…in the community we all recognize the devastating impact this has had, so there has an opening to talk about all things (including drug checking)," he said.
Lund thinks that with more conversation, there has been more interest in conducting trial services "which I think would be beneficial".
In 2017, a harm reduction service was also implemented at Snow Bombing at Sun Peaks Ski Resort.

READ MORE: Sun Peaks is proactive about drug use at Snowbombing music festival
The message would by no means be that the drugs being tested are safe, as there are a variety of factors to consider, including how the individual reacts to the drugs being taken, Lund said.
"The most important intervention around substance checking is that it's an engagement in a conversation," he said.
---

To contact a reporter for this story, email Carli Berry or call 250-864-7494 or email the editor. You can also submit photos, videos or news tips to the newsroom and be entered to win a monthly prize draw.

We appreciate your comments and opinions on our stories, but play well. We will not censor or delete comments unless they contain off-topic statements or links, unnecessary vulgarity, false facts, spam or obviously fake profiles. If you have any concerns about what you see in the comments, email the editor in the link above.
News from © iNFOnews, 2022