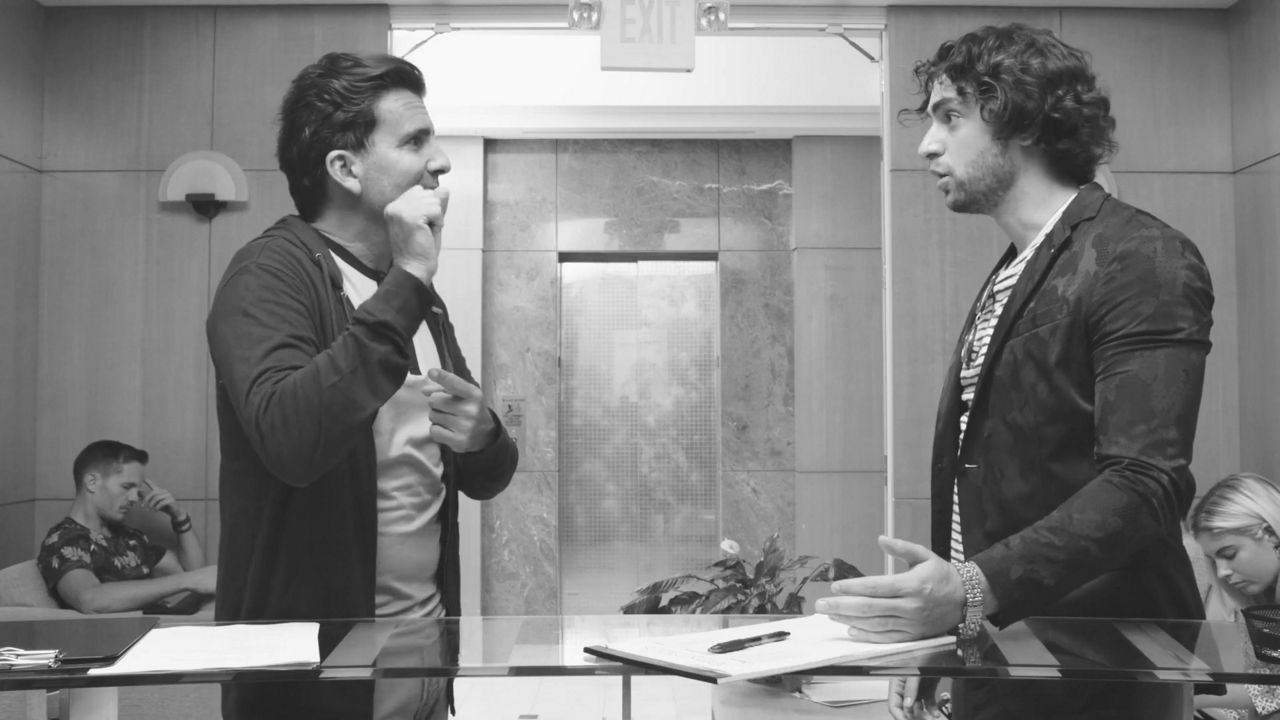 Silent comedy "WHAT?" »Be presented at local film festivals
LOS ANGELES – Charlie Chaplin has been making silent films on the corner of Lillian Way and Eleanor Ave. at Hollywood. Buster Keaton too. More recently, John Maucere and Alek Lev have done the same. Their cinema "WHAT?" is a black and white silent feature film about a deaf actor trying to make it in Hollywood.
"It's a true story," said actor John Maucere, communicating in American Sign Language and played by Jon Wolfe Nelson.
In many ways, this is Maucere's own story. The actor plays the role of Don who tries to hire him by a director. Instead, the director hires a hearing actor to play a deaf character and asks Don to help teach him how to sign. While this is a comedy built on many levels of miscommunication, it clearly grew out of genuine frustration.
"I produced it because I wanted to have deaf characters played by deaf actors," signed Maucere. "I was like 'let's stop standing and complaining. Let's come together and make a film that is well done.
Any actor playing a deaf character on screen is deaf. The same goes for many of the team, including Raven Taylor in her first experience working as a key grip.
"This was my first time in a place, a work environment, where there were more signers than non-signers and more deaf people than hearing people," Taylor said via an interpreter.
Even the film's investors are deaf, leaving director, screenwriter and editor Alek Lev among the few on set to hear. He chose to sign during our interview to support his cast and his team.
Lev has been deeply involved in the deaf community, particularly in the arts, since taking an ASL course in college. That same year, he discovered the films of Buster Keaton.
"I've been thinking about silent cinema for 25 years," he signed. "And I've been working with the deaf community for 25 years. So bringing the two together is amazing.
He is the former vice-president of the International Buster Keaton Company. Keaton's great-granddaughter appears in the film, and the filmmakers have incorporated many locations from the classic films into this one, such as the recently renamed Chaplin Keaton Lloyd Alley.
"To see John walk the same path as Buster Keaton is right, I mean, come on, beyond the unbelievable," Lev signed.
They even filmed in front of the TCL Chinese Theater – where the film had its world premiere at the Dances With Films Festival, one of the 21 festivals for which they were selected.
Maucere, who once performed the national anthem with Alicia Keys at the Super Bowl, decided to make a comedy because he wanted to make sure his audience could relate to the material. Moreover, laughter just makes people feel more comfortable.
"At first when we walked in it was kind of like very robotic," he described. "Hearing people were like, 'Oh, we're surrounded by all these deaf people. There is sign language. What are we doing?' And after seeing the movie, everyone was so jovial and having so much fun and wanted to take pictures with all of us and that was the point of the movie.
Things change in the industry with films like "CODA" and "The Eternals" which feature a deaf superhero played by a deaf actor. The what? "The team are excited about the progress and proud of the film they have created on their own terms.
"It's a great project, kind of a unique project for me," Taylor signed.
"No!" Maucere insisted. "There is more to come! "
He would also like to see more opportunities for deaf actors to be considered for roles that were not specifically written as deaf. "If a role is written for a hearing person but could be adapted to be played by a deaf person, I'm like 'why not?' », Explained Maucere. "Right now there are a lot of very talented Deaf actors out there and the only difference is that they use American Sign Language. This is the only difference. And sign language is beautiful.
He hopes "WHAT? Will open the industry's eyes to the talent pool it needed and serve as a model for what inclusive cinema can be.
"WHAT?" play in Sherman Oaks Film Festival and was selected for the Studio City Film Festival this month.
CORRECTION: An earlier version of this story had the incorrect spelling of Alek Lev. This has been updated. (November 15, 2021)