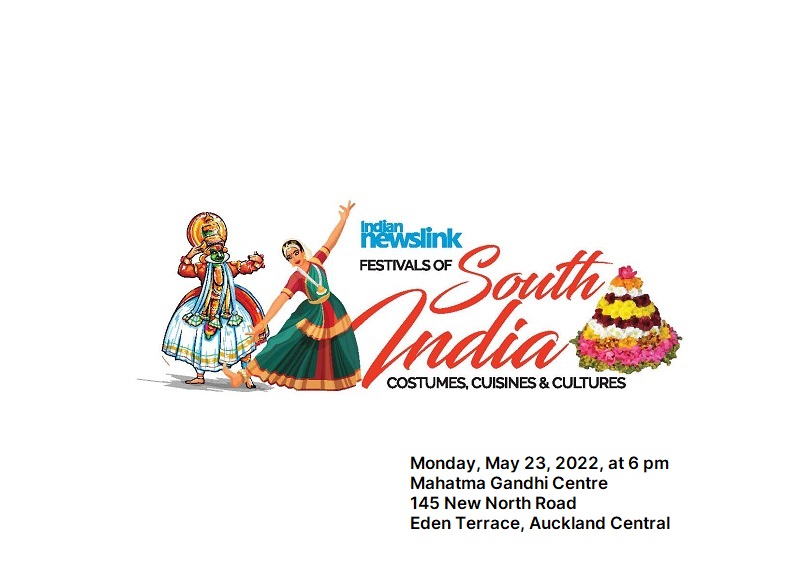 South Indian festivals take the stage on May 23
The first program of the Federation of South Indian Associations New Zealand Inc
Tickets, priced at $34.50, are now on sale
Venkat Raman
Auckland, April 15, 2022
We are pleased to announce that five associations representing the five states of South India have jointly established the Federation of South Indian Associations of New Zealand (FSIANZ) Inc to promote the culture and heritage of India. South India.
We are also pleased to announce that the second annual Indian Newslink South India Festival will be held on Monday, May 23, 2022 at the Mahatma Gandhi Centre, located at 145 New North Road. The event is open to everyone from 12 years old.
Ticket details
Tickets for the program at a price of $34.50 per person and tables that can accommodate ten people each at a price of $345 (including GST) are now available from association representatives. Please see the advertisement on this page and on page 23 of this issue. For more information, please call 021-836528 or email: [email protected]
Mana Andhra Telugu Association New Zealand, Telangana Association of New Zealand, Auckland Tamil Association, Auckland Malayali Samajam and New Zealand Kannada Koota, members of FSIANZ, are organizing the event, which welcomes the Indian High Commission based in Wellington for the first time. as the title sponsor of South Indian Festivals, also to commemorate the 75and India Independence Day.
The highlight of the evening would be traditional music and dancing; we have resolutely retained the traditional aspect of music and dance, as these are the true forms of performing arts that have endured for centuries, inspiring many of our young people to practice them.
We salute the parents, teachers and elders of our communities for conscientiously encouraging children to learn these art forms, practice them and perform them on stage.
South Indian festivals would be a tribute to their patronage.
revered phrase
In ancient India, dance in its classical form was the most revered expression of devotion, devotion and diligence, cultivated to express, elevate and exalt dignity and divinity.
Dancers were treated with respect and honor, emperors, scholars and even warriors finding time to promote their values ​​and ideals.
The dancers of old found a special place in the courts of kings, temples, public places and homes, and were respected as true manifestations of God, embodying the grace, style and strength of the Supreme Being.
Dance in all its forms has found a place of distinction and support in most parts of the world, transcending the artificial barriers of religion, class and income.
Today's young dancers show a commitment and dedication that did not exist a few decades ago, except for a few who kept the fire going.
Talented teachers have established dance schools in most parts of the world to explore and exhibit talent.
New Zealand is one of them.
Indian tradition
Theater and dance in South Asia are mainly derived from the Indian tradition.
As the Encyclopaedia Britannica mentions, the principles of aesthetics and sign language of Natyashastra, a 2000-year-old Sanskrit treatise on dramaturgy, have been the mainstay of all traditional dancers and actors in India.
"Even folk artists follow some of its conventions. Despite the influence of the different religious waves that have swept the subcontinent through the centuries, the forms of dance and theater have always been able to retain their ancient core.
Dancing is part of all Hindu rituals. Farmers dance for a bountiful harvest, hunters for a rich sack, fishermen for a good catch. Seasonal festivals, religious fairs, weddings and births are celebrated with community dances.
"A warrior dances before the image of his goddess and receives her blessings before going into battle. A Temple girl dances to please her God. The gods dance in joy, in anger, in triumph. The world itself has was created by the cosmic dance of Lord Shiva, who is called Nataraja, the king of dancers, and revered by actors and dancers as their patron.
Performances and performers
The South India Festivals will serve as a platform for celebrating the cultures of the five states, namely Andhra Pradesh, Telangana, Tamil Nadu, Karnataka and Kerala. Each of these states is rich in culture, colors, costumes and gastronomy, which will be at the heart of the event. From Bharata Natyam, believed to be the oldest classical Indian dance form, Kuchipudi and Kathakali to various forms of folk dances, there are many tests of performers' talent, endurance, discipline and grace. These would be featured at our event on May 23, 2022 in Auckland.